Autumn is a season of transformation.
The air turns crisper, leaves paint the world in warm hues, and our hearts cozy up with the anticipation of holidays.
It's a time when nature puts on its most captivating show, and our spirits seem to dance in harmony with the falling leaves.
As a blogger, this magical season offers an incredible opportunity to infuse your platform with the spirit of autumn, and not just for the sake of aesthetics but to begin boosting engagement.
Why not invite your readers to participate in creative, autumn-themed challenges that resonate with the very essence of this enchanting time of year?
In this post, we'll delve into the art of cultivating a thriving online community by harnessing the magic of fall.
We'll explore how to elevate reader interaction, foster a sense of togetherness, and draw your audience into your unique world.
Whether you blog about lifestyle topics, travel, fashion, DIY, recipes, sustainability, homesteading, or any other topic, there's a way to embrace autumn and strengthen those connections.
Join us on this journey to create a warm and inviting digital haven amidst the falling leaves.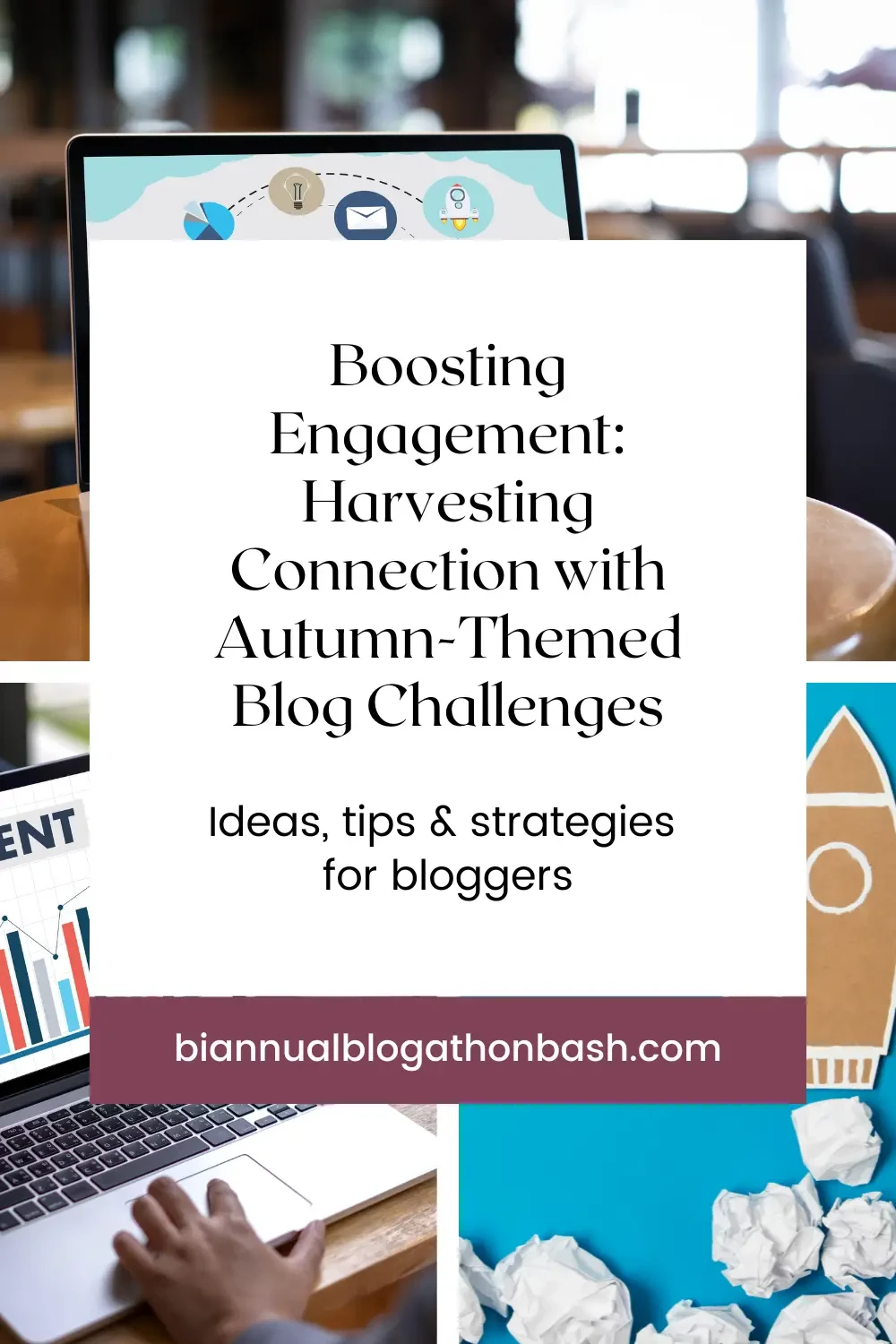 Your Unique Voice: The Secret Ingredient
As bloggers, we are more than just content creators; we are the architects of online communities, the narrators of our passions, and the enthusiastic guides through the vast digital realm.
Our blogs are not just platforms for information; they are the living, breathing reflections of our unwavering zeal for our chosen niches.
This fervor not only drives our work but also breathes life into the community we've carefully nurtured.
Autumn, with its transformative beauty and cozy charm, provides a unique opportunity for us as bloggers.
It's a season that calls us to connect with our readers on a profoundly personal level.
The changing leaves and the crisp, cool air create an atmosphere of openness and authenticity.
It's as if the season itself encourages us to open our hearts and blogs to our readers, sharing not just knowledge but our own experiences and emotions.
The magic of autumn lies in our ability to infuse our unique voice and personality into our blogging.
It's not merely about conveying facts and figures but about sharing our genuine enthusiasm for the arrival of fall.
It's about painting a vivid picture with words of how we, as bloggers, prepare to embrace the spirit of autumn within our niches.
In these moments, our blogs become more than just websites; they become warm, inviting spaces where readers can engage with our journeys, be inspired by our experiences, and become part of our autumn adventures.
It's in this personal touch, this storytelling that transcends mere information-sharing, where the true essence of autumn is captured and where we, as bloggers, shine as the secret ingredient that makes the season even more enchanting for our readers.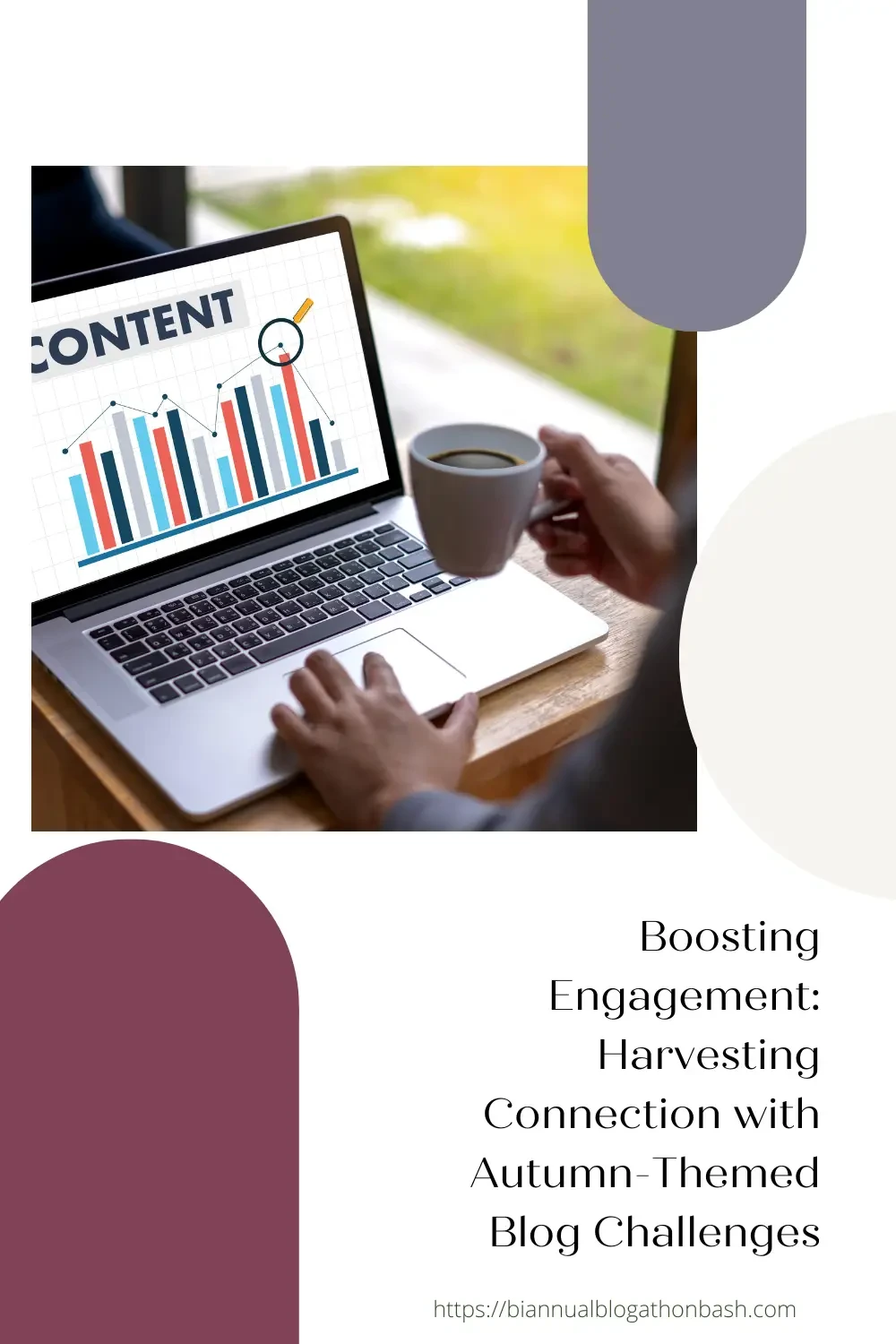 Boosting Engagement: Engage with Authenticity
Your authenticity as a blogger is akin to the secret ingredient that makes your autumn-themed challenges resonate with your readers.
It's more than just sharing information; it's about creating a genuine connection.
As the leaves turn brilliant shades and the air carries the crisp scent of change, your authenticity becomes the bridge that forges deeper connections with your audience.
As we embark on this journey through autumn-themed blogging ideas, remember that your unique voice is your most potent tool.
It's the voice that speaks of your passion for the season, the voice that reflects your excitement as you anticipate the beauty of autumn.
It's the voice that carries your expertise and personal experiences, shaping your posts into genuine, heartfelt expressions.
Imagine your blog as a cozy café, and each blog post as a warm cup of tea or coffee you're sharing with your readers.
Your unique voice is the conversation that unfolds around that cup.
It's the story of how autumn stirs your creativity, the emotions it ignites, and the way you prepare to immerse your niche in the enchantment of the season.
Your voice is what makes your blog not just a source of information but a place where readers feel welcomed, valued, and inspired.
When you infuse your posts with this blend of passion and authenticity, you create a virtual space that inspires your readers to participate, engage, and become an integral part of the warm and inviting community you've cultivated on your blog.
It's not just about sharing autumn-themed challenges; it's about inviting your readers to be a part of your autumn journey, to experience the season through your eyes, and to infuse your niche with the spirit of fall.
Your authenticity is the spark that lights the fire of excitement in your readers, encouraging them to join you in the adventure of autumn.
Unique Touch: A Blogger's Superpower
Now, as we prepare to delve into niche-specific autumn challenges, remember that your unique touch, your blogger's superpower, is what sets you apart in the blogging world.
Whether you're dedicated to offering career advice, exploring the intricate world of gaming, advocating for sustainable and eco-conscious living, or any of the diverse niches within the blogosphere, autumn holds unique opportunities for you to engage your audience in extraordinary ways.
This is your chance to showcase the distinctive qualities of your niche.
It's an opportunity to demonstrate how autumn influences your field and how you can make this season even more remarkable for your readers.
Your unique touch is your expertise, your passion, and your voice that transforms autumn from a season of change into a season of delightful engagement.
Whether you're guiding individuals in their career paths or immersing readers in the world of gaming, these autumn-themed challenges will be your canvas to paint your niche with the colors of the season.
It's where you get to show how the arrival of autumn impacts your niche, how it inspires your creativity, and how your readers can actively participate in this transformative season.
So, as we journey through these niche-specific ideas, keep in mind that your unique touch is your superpower.
It's what makes your blog distinct, and it's the magic wand that makes your autumn-themed challenges not just interesting but unforgettable.
With your unique touch, you have the ability to inspire, educate, and bring about delightful experiences in your niche.
Get ready to embark on this autumn adventure with your niche-specific superpower in hand and let's make this season truly exceptional for your readers.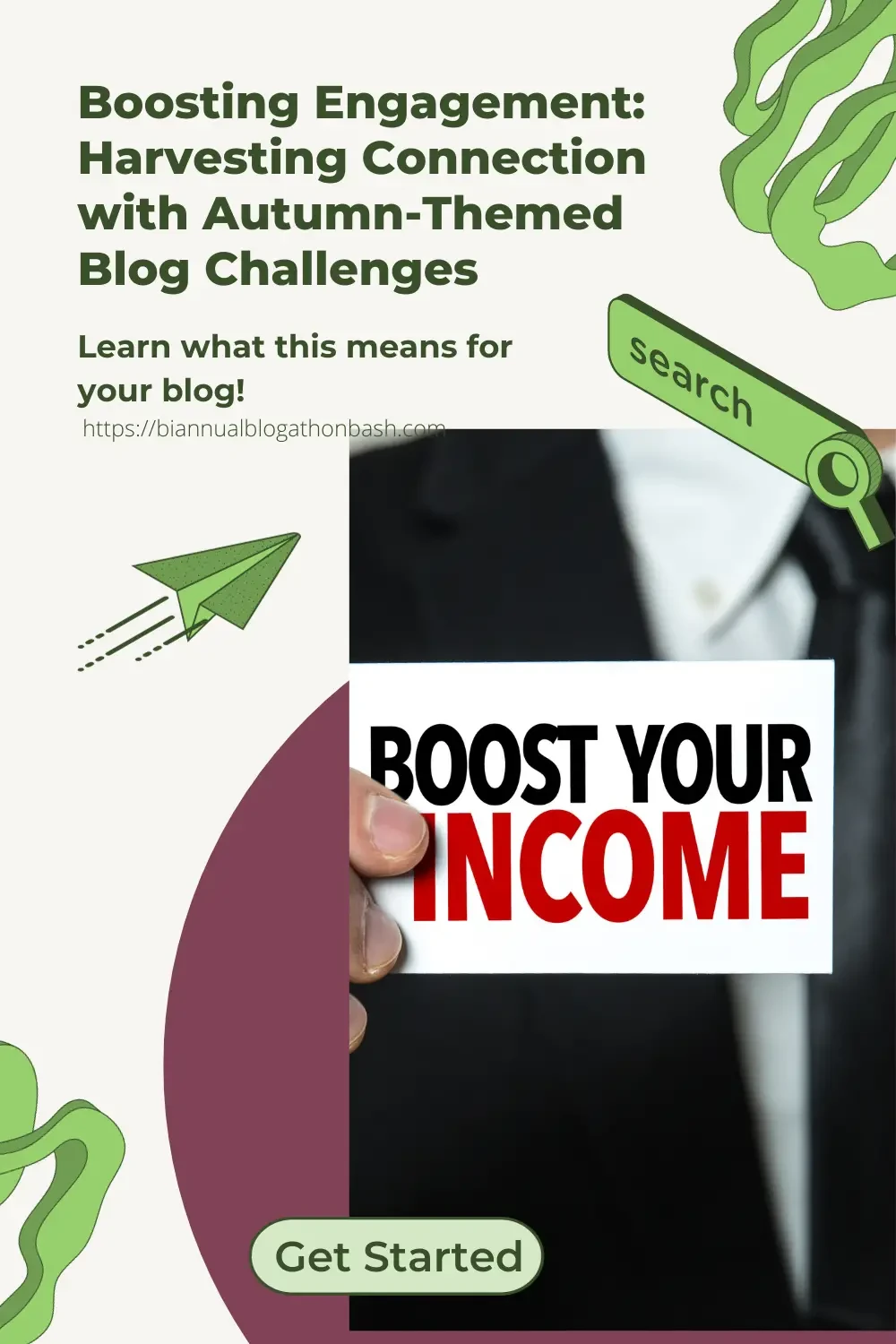 Nurturing Connections: Autumn Challenges for All Bloggers
Autumn offers a unique opportunity for bloggers of all niches to nurture connections with their readers.
The season's transformative beauty, cozy ambiance, and a touch of magic in the air create the perfect backdrop for building lasting relationships within your blogging community.
While we'll explore specific autumn challenges for various niches shortly, this segment is dedicated to the overarching theme of nurturing connections that can apply to all bloggers.
Autumn brings a wealth of activities and experiences that resonate with a broad audience, regardless of your blogging focus.
Embrace the notion that, like the leaves falling gently to the ground, your readers should feel a sense of belonging and connection within your virtual realm.
Encourage them to share their personal experiences, traditions, and stories related to the season.
Whether you're a parenting blogger, a tech enthusiast, or a culinary connoisseur, autumn provides a unifying theme that transcends niche boundaries.
Consider hosting cross-niche autumn-themed challenges that not only inspire creativity but also foster a sense of togetherness.
Challenges like a "Fall Photo Journey" can invite readers from various niches to share snapshots capturing the essence of autumn in their lives.
Or perhaps, a "Favorite Autumn Memory" challenge can provide a platform for heartfelt stories and connections that touch the hearts of readers from different walks of life.
Autumn's beauty is universal, and the power of community-building during this season knows no bounds.
By embracing the spirit of nurturing connections, you not only create engaging content but also contribute to the formation of a supportive, inclusive, and vibrant blogging community.
Let's explore these and other cross-niche autumn challenges, fostering connections and having a lot of autumn fun along the way.
Pumpkin Spice Content Challenge – For lifestyle bloggers, the aroma of pumpkin spice signals the start of autumn. Encourage your readers to explore the world of pumpkin spice beyond lattes. Ask them to create and share unique pumpkin spice recipes, fall fashion styles incorporating pumpkin spice colors, or even autumn-themed home decor projects featuring this beloved spice.
Harvest Photo Contest – Travel bloggers, embrace the beauty of fall by hosting a fall foliage photo contest. Encourage your readers to submit their stunning autumn travel photos, capturing the mesmerizing landscapes, colorful leaves, and cozy seasonal experiences. It's a great way to combine your passion for travel with the spirit of autumn.
Fall Foliage Scavenger Hunt – Parenting bloggers can turn the fall foliage scavenger hunt into a family-friendly adventure. Share a list of items to find in the great outdoors, and invite your readers to embark on this nature treasure hunt with their children. Encourage them to document the moments of discovery and share their experiences of exploring the beauty of the season with their families.
Farm-to-Table Fall Recipe Swap – Food bloggers can elevate reader engagement by hosting a farm-to-table fall recipe swap. Challenge your readers to exchange their favorite autumn recipes using locally sourced ingredients. Whether it's a delicious fall soup or a pumpkin dessert, the focus on farm-fresh ingredients adds an enticing twist to the recipe exchange.
Homesteading Harvest Challenges – Homesteading bloggers, the harvest season is your time to shine. Encourage your community to participate in homesteading challenges centered around autumn. Whether it's canning and preserving the season's bounty, crafting fall-themed homestead decor, or sharing tips for preparing your homestead for winter, there are endless opportunities for engagement.
Green and Sustainable Fall Decor – Eco-friendly and sustainable living bloggers, promote a green approach to fall decor. Challenge your readers to create eco-conscious autumn decorations using upcycled or sustainable materials. From crafting reusable fall-themed table settings to decorating with repurposed natural elements, emphasize the importance of environmentally friendly choices during this season.
Survival Skills in Autumn – Survival bloggers, autumn presents its own unique set of challenges. Provide your readers with autumn-specific survival tips, from staying warm and dry in cooler weather to foraging for seasonal wild edibles. Encourage your audience to share their autumn survival experiences, making your blog a valuable resource for preparedness during this time of year.
Autumn Crafts Showcase – DIY bloggers, an autumn craft showcase is your chance to shine. Challenge your readers to create homemade autumn-themed decorations, whether it's wreaths made from fallen leaves, handcrafted Halloween costumes, or festive DIY gifts. Share your own fall craft projects, and inspire your readers to get creative and embrace the spirit of the season.
Fall Gardening Tips Exchange – Gardening bloggers, don't let your green thumb hibernate in the fall. Encourage your readers to share their best tips for maintaining gardens during the cooler months. Topics could include planting cold-resistant crops, preparing soil for winter, and protecting plants from autumn frost. The exchange of gardening knowledge can thrive even in autumn.
Navigating Remote Work Challenges in the Autumn Season – As the fall season settles in, many professionals continue to work remotely and this is an area perfect for career or business bloggers to blog about. Explore the unique challenges this season brings to remote work, from staying motivated during darker days to maintaining a healthy work-life balance amidst the cozy allure of autumn.
Fall Fitness Routines: Staying Active in Colder Weather – As the weather cools down, staying active becomes a different game. Sports bloggers can dive into the world of autumn fitness routines, from outdoor activities like hiking to adapting your workouts for the changing seasons. Learn how athletes and fitness enthusiasts make the most of fall's unique challenges.
Educational Fall Field Trips: Learning Beyond the Classroom – Autumn is the perfect season for educational adventures and this is where educational bloggers can shine. Discover the educational value of fall field trips, whether to pumpkin patches, botanical gardens, or historical sites. Explore how hands-on learning experiences can enrich students' understanding of the world.
Autumn in Politics: Seasonal Changes in Legislation and Policies – Just as the leaves change, so do political landscapes. Dive into the autumnal shifts in legislation, policies, and political agendas. Political and news bloggers can explore how changing seasons can impact the political world and what readers need to know to stay informed.
Top Video Games to Play This Fall – Gaming Bloggers, get your readers ready for a season of exciting releases and in-game events. Highlight the hottest video games to play during the fall season, from horror-themed adventures to sports simulations. Share tips and recommendations for an immersive gaming experience this autumn.
Best Autumn Reads: Cozy Up with Fall-Themed Books – Book and Literature Bloggers know there is something enchanting about reading in the fall. Create a reading list of the best books to curl up with on a chilly autumn day. Dive into the world of autumn-themed literature, from classic novels with seasonal settings to new releases capturing the spirit of the season.
Financial Preparations for the Upcoming Holiday Season – Autumn is the ideal time to get your finances in order for the upcoming holidays. Finance and money bloggers should offer their readers practical advice on budgeting, saving, and preparing for holiday expenses. Share tips on managing spending during the festive season and planning for a stress-free financial future.
Autumn Tech Trends: Gadgets to Enhance Your Fall Experience – Autumn is not just about leaves falling; it's also a time for tech trends to evolve. This is a great time for tech and gadget bloggers to explore the latest gadgets and tech trends that can elevate your readers' fall experience and start making recommendations for the upcoming holidays. From cozy smart home setups to outdoor adventure tech, delve into how technology can enhance autumn living.
Fall Self-Care: Tips for Boosting Mental and Physical Health – Autumn is a season of transformation, and that includes self-care, so that is a great place for health and wellness bloggers to start boosting engagement. Share strategies for your readers to boost their mental and physical well-being during the fall. Explore the benefits of autumnal mindfulness practices, seasonal workouts, and nourishing recipes that promote health and wellness.
Fall Wardrobe Essentials: Cozy and Stylish Fashion Picks – Transitioning your wardrobe for autumn can be an exciting yet challenging task. Lifestyle and fashion bloggers can help their readers stay stylish and warm by curating a list of must-have fall fashion essentials. Share tips on layering, color choices, and how to adapt their style for the season.
Embrace the Autumn Magic: Your Personal Touch Makes the Difference
Remember, what makes these autumn-themed challenges special is your personal touch.
Share your own experiences and excitement for the season throughout the post.
Offer insights into how you, as a passionate blogger, are preparing for autumn in your niche.
Your authenticity will resonate with your readers and inspire them to join in on the autumn fun.
So, embrace the season of transformation, engage your readers, and create a warm and inviting community on your blog.