Ever wonder what a new visitor to your blog thinks about your site usability?
Peek allows you to hear first hand what a new visitor "sees" when they look at your blog.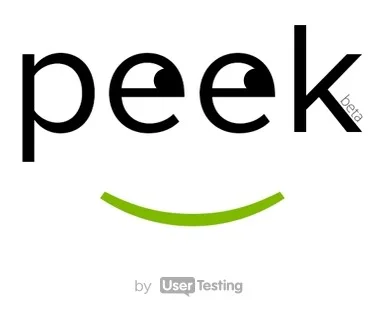 Accessing Your Site Usability
What is Peek?
A FREE service provided by UserTesting.
Submit your website, blog, Social Media profile, landing page or even competitor's page and receive back a video of a REAL person visiting your site for the first time.
The video shows their computer screen and what it looks like on their computer. You can see their mouse move and hear their voice talking about what they see.
They answer questions about site usability such as what do they notice first, where do they want to click, what happens when they do that and would they return to the site.
The video is emailed to you when its ready which can be from hours to a few days.
The videos seem to average 5-10 minutes in length.
You can run 3 tests/month.
Why You Need to Use Peek
It's not just another blogger visiting your site, it's a random "regular" person who has only basic knowledge (or perhaps less) of blogs and has never been to your site before.
The visitor sees things you don't notice on your blog such as confusing navigation, broken links and inconsistencies.
It confirms what you are doing right and tells you where you might need to make improvements in a considerate and helpful manner.
My Testing Experience
I tested two of my blogs so far and am happy with the results I got back.
I was emailed a link to the video.
For some reason it wouldn't play in the browser for me but there is a way to download the video as well which I did so I was still able to view it.
It was really eye opening and not as scary because I don't know the person critiquing my site.
I'm a sensitive person and have shied away from asking other bloggers what they think of my sites because I'm afraid I'll hear all bad.
Having a random person from some random place made it less scary.
Also because they are seeing it from a computer that's probably never been there before, it revealed things that don't show that way to me such as errors in plugins and the welcome message I've set for new visitors but don't see myself and so forget to update.
It also revealed that one of my categories has no content showing when you click on it.
The tester wasn't another blogger so she pointed out things I wouldn't have thought of as being confusing.
She didn't know you can click on a post title to get to rest of the post and my Callista's Ramblings theme doesn't say "Read More."
She also was confused over what the 72p means in Intense Debate comments.
She also picked up that the blog is Callista's Ramblings and the About Me section talks about me but doesn't say for sure if I'm Callista or not.
Also she pointed out that she didn't know what Girl Guide Leader was and she assumed SAHM was stay at home mom but that if her husband had been on my blog for instance, he would have no idea what that meant.
It was very enlightening and I will be requesting more tests for sure!
Your Turn
Get a Free Peek Into YOUR Blog!
*I did not receive anything for writing about Peek. I am just sharing because I think it's a great tool.