Anyone who knows me knows how much I love iPhone blogger apps.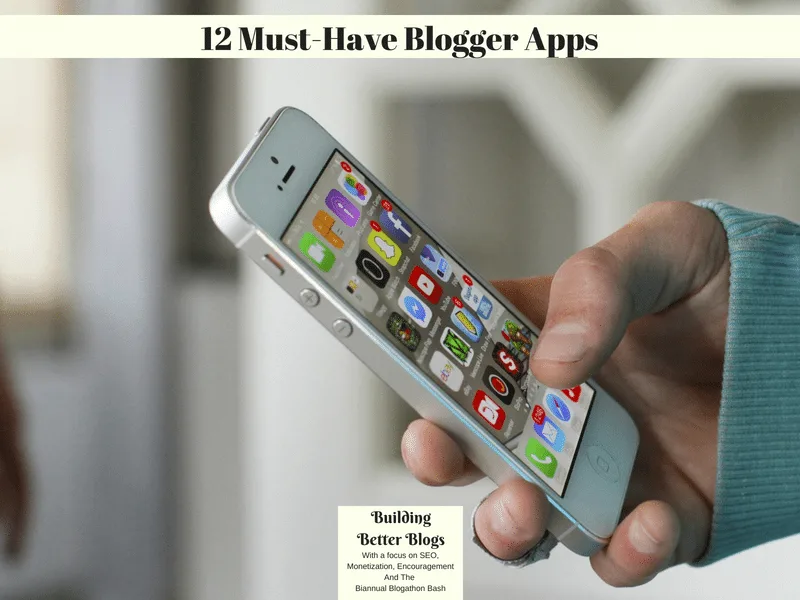 I love finding new ones – especially photography apps but did you know many of them cannot be used commercially?
That means if you alter your photo using them by adding text, overlays, frames, etc. you cannot use them on your blog.
There are also links to products I recommend from companies I have a referral relationship with. I will be compensated if you make a purchase after clicking on my links.
For creating photos for my blog I use Canva – and while they do have an app I have not found it possible to change the photos on my templates.
The desktop version is easy to use however and my templates stay where they are easily accessible so all I have to do is change the photo and the text.
This really helps with consistency especially on my YouTube Channel where consistent thumbnails matter.
However I am often on-the-go or simply don't want to use my iMac to check my social media or create videos or photos. I have found 12 must-have blogger apps that I use all the time.
The 12 Blogger Apps
Please note these are not the only ones I use, but are my go-to apps that I use multiple times every single day.
1. Facebook Mentions – You need a verified page for this, but the app tells you exactly what you need to do to get your page verified. I like this app because it helps me keep track of what is happening with my Facebook fan page – and I don't end up spending hours reading thorough my newsfeed when I should be working. It also allows me to Live Stream on Facebook which really helps boost engagement. I know a lot of personal profiles – including mine – now have the Live Stream option, however I find that I use the Facebook Mentions App more than my other Facebook Apps.
2. Twitter – This app is great for posting tweets, seeing who is responding to your Tweets and getting notifications on your phone from those accounts you want to stay on top of.
3. Instagram – With so many brands wanting coverage on Instagram, you need this app.
4. PayPal – Working with a lot of different companies means getting paid at random times. This app sends notifications when you get paid and when you have sent money to someone. It is a great way to keep track of your finances at home and when you are away from home.
5. Google Analytics – Let's face it, you need to know what your stats are. I love being able to randomly login throughout the day and find out how many people have been on my blog – or even look at the RealTime stats to see what posts are popular at the moment.
6. Google Adsense – This app lets you see how much money your Google Ads are making.
7. MoviePro – I use this so I can film in 4K with my front facing camera – however it has lots of other cool features. There is a zoom in and zoom out button. You can pause the video. It has auto focus lock and a lot of other features that I am still learning about. This is the one app I now use for making my videos unless – of course – I am live streaming.
8. Wirecast Go – This is a great app for live streaming on YouTube or any RTMP server. It lets you add photos to your live stream as well as logs and titles. There are many other options especially for those who pay to upgrade including the ability to broadcast private or unlisted broadcasts on YouTube.
9. StillShot – I love this app for grabbing photos from video. It is easy to use, just import your video and then choose which shot you want to save. A must have for creating thumbnails for YouTube.
10. PS Express – The main feature I use in this app is the auto-correct and crop. I have even imported old photos into PS Express and let it lighten them up. Easy to use and a must have.
11. Brander – Branding is important. There are two versions of this app – free and paid. I love that I can add an overlay to my photos right on my phone and then auto-share to my social media. Options are available for adding your website link and hashtags.
12. BlogPhotoUP (PUPS) – I don't know about you, but I am awful about taking photos, uploading them to Dropbox, then putting them on my iMac hard drive without adding them to my blog. PUPS makes adding those photos a snap. Connect your WordPress blog, set up the size of photo you want to upload and then choose which ones you want uploaded right from your Camera Roll. It just makes life easier and your photos are already on your blog when you are ready to use them in your post.
As I said, these are not the only apps I use, they are just my most used. Other favorites include Dropbox, the native iOS Camera and WordPress.
Are you ready to take your blog to the next level? Check out the blogging courses available from Billie Hillier.
I have taken two of the free courses – 10 Day Traffic Boost Throwdown and Content Marketing Resource Library.
I also enrolled in the Traffic Boot Camp For Content Marketers and highly recommend it!
I highly recommend the following articles:
I highly recommend the following articles:
Use the buttons in the upper right hand corner to share this article with friends or family who might find it useful. Pin the picture below to your pinboard on Pinterest for future reference.