Anchor Text For SEO are the words that you click on to link to a another site.
Anchor text in SEO also tells the bots what the post is about.
So you see, anchor text does matter and I'll cover the proper way to use anchor text in SEO below.
But first let's cover the basics.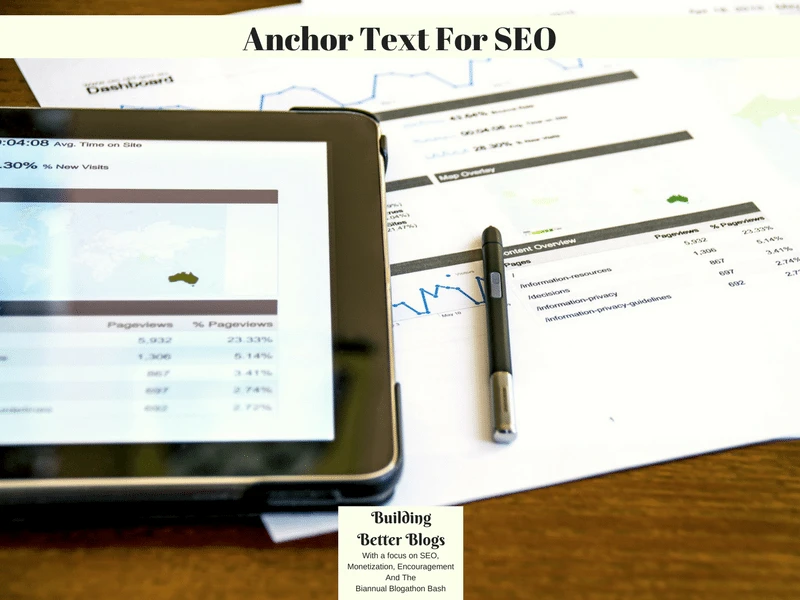 What is Anchor Text In SEO?
e.g. I created this blog using WordPress.
In the examples above, the colored word "Wordpress" is the anchor text.
Anchor text is colored and sometimes it is in bold, although putting linked anchor text in bold is not necessary and in reality does nothing for SEO with the exception of the initial longtail keyword.
Bolding the first longtail keyword, which needs to be in the first 150 characters of the post, draws the attention of bots and let's them know what the post is about.


What Does SEO Anchor Text Look Like in HTML?
In HTML, the anchor text is the words between the > and the </a> as shown in the example below.

I created this blog using <a href="http://wordpress.org" target="_blank" rel="nofollow noopener">Wordpress</a>.
When you choose to link a word in your blog post it is important that the word you link is related to your blog post because in addition to the initial bolded long tail keyword, the linked text also tells the bots what the post is about.
For example, at the beginning of this blog post, I bolded <strong>Anchor Text For SEO</strong> because this post is about Anchor Text For SEO, so the bots will use that bolded information along with any links in the article to determine who might be interested in this article when they do a search.
Different Types of Anchor Text In SEO
Exact-Match – keywords match what page is about. e.g. "puppy training" for a page on puppy training
Partial-Match – keywords closely match what page is about. e.g. "puppy training tips" for a page on puppy training
Branded – keywords match a brand name. e.g. "Wordpress" for the WordPress page.
Naked Link – the URL as anchor text. e.g. "Wordpress.org" for the WordPress.org page
Generic – generic words that don't have to do with the page. e.g. "Click Here" or "Check it Out!" or "More Details" for any page – and it is best for SEO purposes not to use this type of anchor text!
Images – When you make an image a link, whatever the alt tag for the image is, is considered the anchor text. This is why when you upload an image it is important to properly fill in the data. For example in the title field of the image you should put the actual title of the post. In the Alt Text field you should describe what the photo shows so people who have accessibilty problems but it also displays when the photo does not plus the search engine bots can read the alt text and know what the photo is about thus is gives them even more information on what the acutal blog post is about. The description field is the long description of the pin and ideally also needs text in it. See the example below.

Why Does SEO Anchor Text Matter?
Anchor Text is used by search engines to help determine what websites are about which in turn helps them decide for what searches they should show that website as a result.
So basically if you run a puppy training website you want people to link to you using words that have to do with puppy training or your brand or URL.
Unfortunately you cannot control what other people do.
However you can make sure anchor text is done correctly on your websites.
The main tip you want to remember is moderation.
Google likes websites/blogs that are natural.
If all your links are exact-matches or are all a naked link they will think your site is spammy because it looks like you are trying to game the system.
The purpose of SEO is to help guide the search engines, not to fully control how they see your website.
So you want to make sure you use a combination of all the anchor text types with the exception of the generic terms.
When you use terms like click here, you aren't telling search engines anything about the site you are linking to.
This hurts them but it also hurts you.
Google likes to see a website with internal and external links and they want you to have relevant links.
They can't see if you are linking to pages relevant to your topic without proper anchor text.
e.g. You run a puppy training site. If you have some links in your website/blog to other sites with anchor text "click here", "see for more details" and "check this out," then Google doesn't know if you are linking to relevant sites or not. Your links would be better to be "train your puppy", "puppypeepads.com" and "Petsmart."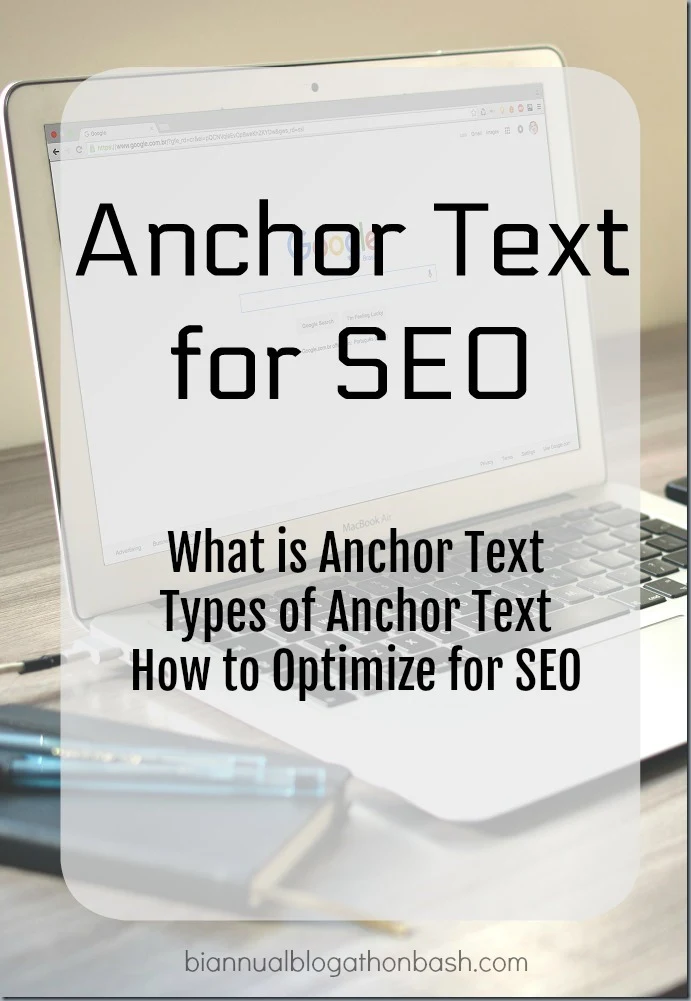 SEO Anchor Text Main Takeaways
Anchor Text is the words that are linked to another website. They are usually blue, but the color of the anchor text can vary and clicking them will bring you to another site or another page on the same site.
You want anchor text to be relevant. Choose words that make sense to the site you are linking too.
Make sure you add relevant alt tags to images, especially if they are linked somewhere.
Don't use generic anchor text like click here.
Don't stuff your anchor text with keywords, use all one type of anchor text or do anything else that seems unnatural.
I highly recommend the following articles:
If you like this post, please share it on social media.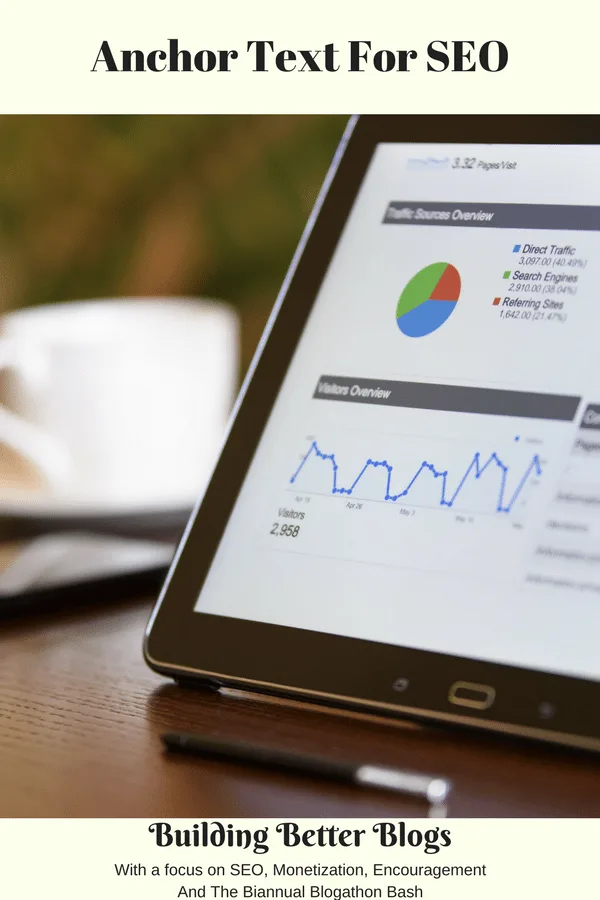 SaveSaveSaveSave
SaveSave
SaveSaveSaveSave
SaveSave